Data Recovery Software for SIM Cards Screenshots
Data recovery software can retrieve call logs from any SIM card as well as deleted contact information from an address book. SIM card recovery tool is very user-friendly and simple to use. An application that recovers lost data from SIM cards that have been transferred to PC does so in perfect condition. On your PC, you can view the deleted data and choose the files you want to recover.
All kinds of missing and lost data can be recovered using SIM card data software. Additionally, you can view all the SIM card data, including the SIM card's phone number, serial number, network status, location and other details. A feature of the software also makes it possible to quickly back up existing and previously recovered SIM card data on a computer.
Advantages of using SIM card Data recovery software:
With a few clicks, recover deleted data from SIM card to PC.
Recover data from the SIM card including own number, Card Identfication, Fixed Dialed Number and Service Povider Name.
Get information about your SIM card in minutes.
Make a backup of your SIM card details.
Easily save SIM data to a computer.
It shows mobile service provider's name.
The following steps to recover formatted SIM cards using Data Recovery Software:
Step 1: Connect your SIM card to PC using USB SIM card reader
After successfully connecting your SIM card, select your card reader type. Two options are provided for select card readers: 'My SIM Card Reader Follows PC/SC technology standards' or 'My SIM Card Reader Follows Phoenix technology standards'. After selecting reader card software, provide reader details such as reader name, reader device, and port/value. Then click the OK button.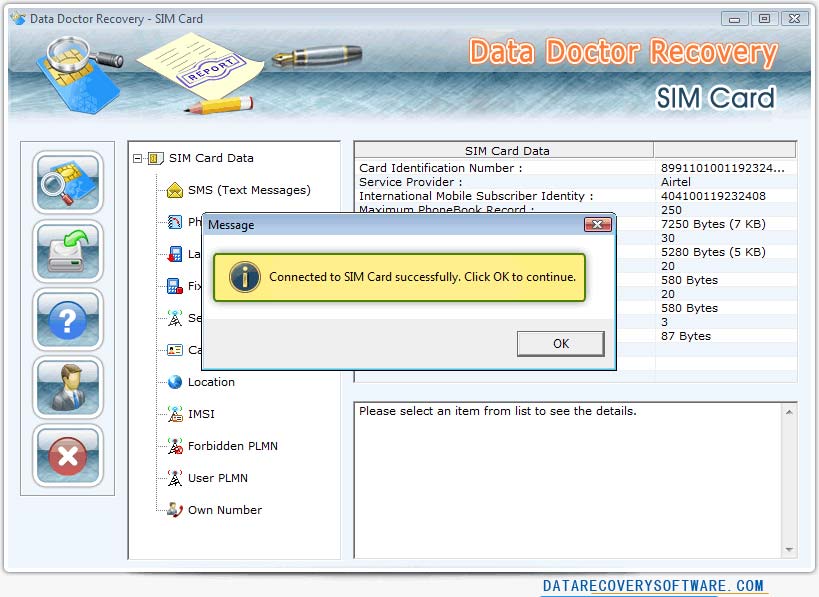 Step 2: Select SIM card data from the left panel list which you want to recover
Data recovery program displays SIM Card Data on the right panel. Software can recover different types of SIM data, including SMS, last dialed number, location, and service provider name, etc.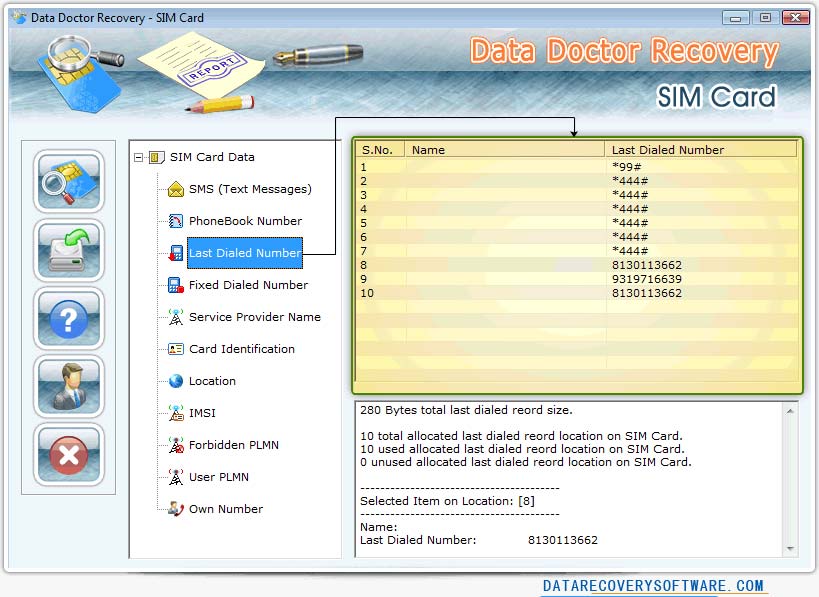 Click on the 'Start Searching' button to start recovering SIM information, then after recovery software shows all details of your SIM card. Wait for the scanning process to completely scan the sim card for all lost contacts, texts, and call history. The above screen shows details about the Last Dialed Number, including the size of the dialed record, contact name, and contact number, etc. If you want to save recovered data, click on the 'Save Data' option to save it on your PC.