Data Recovery Software for Digital Camera Screenshots
Digital photo loss is painful for some reasons. It's possible that you formatted the digital camera card or unintentionally deleted pictures. It's also possible that the camera memory card displays an error, won't open, is infected with a virus, or is corrupted, which would cause the loss of any saved photos. Whatever the reason, you can recover deleted photos from any memory card of camera.
The most efficient way to recover lost pictures with digital camera recovery software. Data recovery tools are available that can thoroughly scan the memory card of a digital camera and show the deleted photos that can be recovered.

Data Loss Scenarios for Digital Camera Memory Cards:
Your memory card's data files, such as the photos and videos, are mostly missing.
While reading or writing data, you removed the card from the camera or other device.
Unintentionally formatted while receiving the message "SD card is not formatted." You want to format it now, right?
Virus attacks caused the card to become corrupted or damaged.
Sudden power outages while transferring data and issues with camera batteries.
Steps to quickly recover lost data from a Digital Camera with Data Recovery Software:
Step 1: Connect your digital camera SD card to the computer
Remove the memory card from the camera, and then attach it to the computer to recover accidentally deleted data. It supports memory cards of digital cameras, including Canon, Panasonic, Fujitsu, Sony, Nikon, Hitachi, and other manufacturers.
Step 2: Select any one of the Search Modes to recover Missing Photos and Videos
For standard recovery searches, the user can choose between Basic and Deep searches and also choose camera file-specific searches including Photo, Video, and Raw searches.
On the basis of fundamental partition parameters, basic data recovery search is quick and recovers data in the majority of common data loss cases. Even in complex data loss situations, Deep Search thoroughly scans the storage medium to recover data. In the photo search mode, the raw search algorithm is used to locate specific photo files regardless of the file system hierarchy. Regardless of the file system structure, the video search mode used a raw search algorithm to find missing videos. The raw search mode uses the raw search algorithm to locate various file types regardless of the storage medium's file system architecture.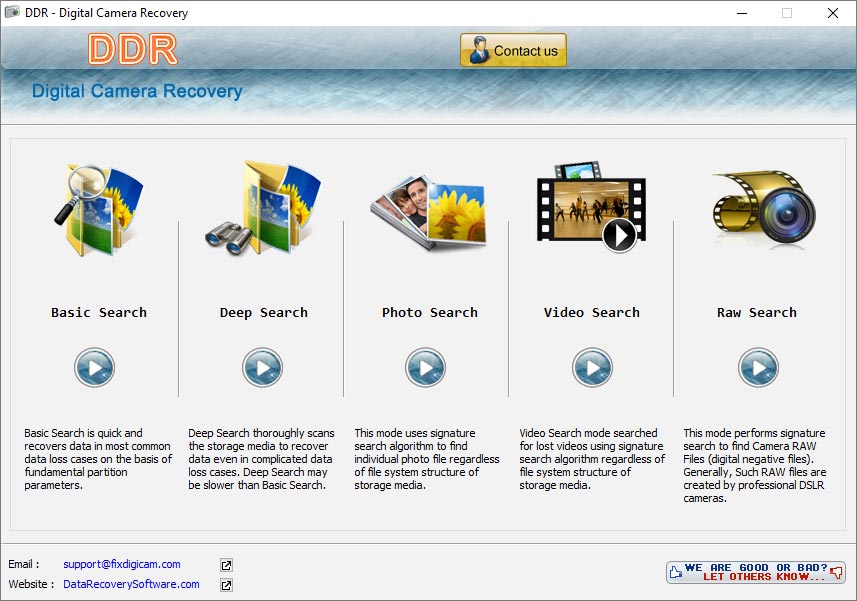 Step 3: Select the drive from which you want to recover lost data and click next button to start the scan
User can choose a drive from the list of available physical or logical drives in the left panel then use the "search more partition" button to search missing partition. Click on the next button to start the search process. When the search is finished, the user can select the recovered data from the list and save it to their PC.